We returned to Bialystok after our day trip to Warsaw. Warsaw was absolutely amazing and I really wish we could've spent so much more time there. A ton of people recommend to visit the Palace of Culture and Science, this building is the focal point in Warsaw and was built as a gift of friendship from the Soviets to Poland (as we know, friendship is difficult to define). On our next trip to Poland we are planning on spending some more time in Warsaw.
After hanging out for a few days at my uncle's house in Bialystok (for some needed R&R), the four of us headed to Krakow. We took a midnight train to Krakow and spent the extra zlotys (the Polish version of the dollar) to book a couchette (sleeper car). The couchette was clean, not so comfortable (but I was completely wrought with excitement) for four people. If it could've housed just Duane and I, I would've been happy. The little old people (as we lovingly refer to my parents) kind of just kept getting in the way (kept hopping out of the couchette and waking me up as I was just getting used to the lull of the train tracks) at inoportune moments. We arrived in Krakow at 6 a.m. with our baggage in tote. We could not check into our hotel until 2 p.m. but we were able to check our bags at the hotel during the interim. We wandered Krakow.

The Legend of Krakow:
Once upon a time (around the 7th century) there lived a wise and strong prince by the name of Krakus. Krakus built a castle on a hill named Wawel, which sits on the banks of the Vistula River, and named the town after himself (Krakow). This existence would've been splendorous were it not for a dragon who lived in a cave under the castle. This fire breathing loathsome and fearsome creature fed upon the citizens' and princes' cattle and sheep and was fond of humans as well, especially fair maidens. The wise prince Krakus ordered a sheep's hide to be filled with sulfuric acid and was set on fire and hurled towared the beasts' cave. The voracious beast devoured to sheepskin, sulfuric acid and all in one large gulp. Realizing the burn he felt in its stomach the dragon rushed over to the river and drank and drank and drank, finally exploding giving the citizens of Krakow a glorious fireworks display. The town was saved from this terrible beast, the dragon became the symbol of the city.
Krakow was at one time the capital of Poland for hundreds of years, the capital was moved to Warsaw in the 1600's but many have still considered the center of culture and arts and education to still be in Krakow.
First and foremost this was to be (and was) the highlight of my trip. I read so much about this medieval city that I was enchanted with it before I set foot there. There is a definite personality to each of the cities we've visited but I must say that this has the most character. The only one regret I have about Krakow is that I didn't snap alot more pictures. I felt (at the time) that some things should be committed to memory and I was so involved with exploring Krakow that pictures were secondary.
Here's a photo of the Cloth Hall (Sukiennice) in the middle of Old Town: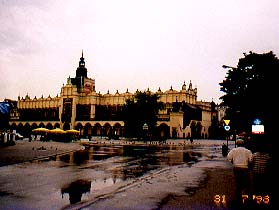 The morning we arrived a storm hit Old Town. This was the aftermath, less than 1 hour later it was sunny and warm.
The Cloth Hall was built sometime during the 14th century and was built to house a budding cloth trade. A fire burnt down the hall and was rebuilt in it's current Renaissance style. Arcades were added sometime last century to give the hall more of a aesthetic experience. The Cloth Hall is a great place to buy souvenirs and such things, inside the ground hall continues to be a trading center, a great place to buy amber and silver jewlery at unbelievable prices (I bought a gorgeous silver ring for 25 zloty's, each zloty was worth $3.35 U.S., translated: I spent about $7.30 U.S. on a ring. Earrings are another great buy, it was a shopping heaven!!)
The great thing about Krakow is that you can find just about everything you'd want in Old Town. You can tell the locals are still a large part of Old Town life, there are little 'mom and pop' stores scattered throughout. You can eat dinner, drink coffee or alcohol in basements built during the medieval times. We dined at a little Romanian restaurant for 33 zl. (about $10 U.S.) and had a lovely time. We walked around Old Town late at night and saw how the atmosphere changes from a bustling shopping haven to a party type atmosphere. I cannot stress how much I was charmed. The really great thing is that my husband and my parents were in love with it as much as I was! I laughed when I saw the Pizza Hut's, the McDonald's and other American influences. The only bad thing about Krakow is that at times it was so hot, so hot it was hard to try clothes on and the only two places we could seek air conditioning were the American Express office and the McDonald's (which, by the way, was a hundred more times crowded than any McDonald's I've ever been to. As well as it was also one of the largest McDonald's I've ever been in).
Another regret I have and I will rectify it, we didn't have a chance to see Wawel Castle or the Wieliczka Salt Mines. The Wieliczka Salt Mines are supposedly a wonder, statues, hundreds of them, as well as rooms carved from salt. As it happened we pulled three things into this one trip to Krakow. My highlight of the trip of course was this enchanting city. Duane's highlight was a day trip to go to Aushwitz/Birkenau concentration camps and my parents thing was to go visit Jasna Gora, the home of the Black Madonna, in Czestochowa.
A few more photos of my favorite city